PLUG + DRY = PLAY with our patent pending air dry system.
Dry your equipment in approximately 2 hours!
Drylocker uses only fast drying natural room temperature air and therefore will never harm or damage your equipment unlike constant heat use which overtime will break down rubber, leather and other material.
Due to our patent pending technology, you will never have a "stinky or smelly" hotel room or basement again, due to drying hockey equipment. You will never forget equipment at home or play with wet equipment again.
Your Drylocker is made with:
High Quality 1180D material
Durable super fast dry fan
Straight up skate pockets (less wear/longer lasting)
Top Quality easy pull size 10 zippers
Optional wheel and telescopic handle (wheel bags only)
Charcoal/Carbon fibre filters (reduces & helps eliminate room odour)
Dries in approximately 2 hours!
For maximum drying performance and quicker drying time, we recommend the following:
Place dense equipment closest to blower fan
SUGGESTED PLACEMENT OF EQUIPMENT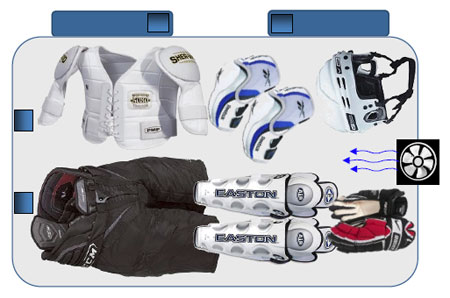 It is recommended that a spray on disinfectant/deodorizer will help maintain your equipments life after a standard cleaning at your local sports shop of specialty laundry service
FILTERS:
For maximum performance from filters it is recommended that they are replaced every 6 to 8 months or the start of every new sporting season
FAST DRY FAN:
Never wash or get fast dry fan wet, may cause damage or electrical shock. Keep fan guards on at all times for your protection
REPLACEMENT PARTS
For any questions, or are in need of filters, fans, parts or disinfectant/deodorizer sprays please email: